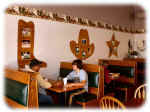 Our booths are comfortable and spacious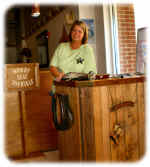 You'll be greeted and seated in a hurry.

Fast, efficient, friendly service is our goal. Along with GREAT FOOD!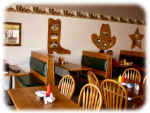 All cowboys and cowgirls are welcome!
Please Note!!!

WE ARE MOVING!!
Our new location is the intersection of Highway 45 and Crooked Road.

We will be CLOSED from Dec 26th through December 31st

We will open at our new location Jan 1st

NOTICE OUR NEW HOURS TOO!!
Mon through Sat - 6am though 8pm
Sunday - 6am through 3pm.

Our freshly baked cinnamon rolls are famous!

You'll find Roxanne either out in front or wielding a spatula in the kitchen.

Plenty of room for any sized party. Tables can be joined for large parties easily!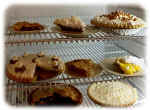 Pies and other desserts are baked fresh daily.